Guides
All of our guides are licensed and guide full time, with summers spent at the Goodnews River Lodge, and the rest of the year on their home waters in places like the Keys, Oregon, Louisiana, the Rockies, and Michigan.
Have you ever booked a trip to a remote fishing destination only to get there and find that the guides are not up to par? Well, you won't have that problem at the Goodnews River Lodge. We not only great fishermen/Guides, but also great guys who truly enjoy being around people. And we're especially excited to say that in 2019 all of our guides have had prior experience on the Goodnews River. Most of them return every year to their favorite fishing hole, and each has his own favorite fish, methods, and sections of the River. That's why we have you fish with a different guide every day. They're all great, and you'll love the time you spend on the water with each of them. Here is who you will be fishing with on a trip to the Goodnews River Lodge in 2019.
Jeff Arnold
Head Guide, Owner and CEO of JeffCo Industries, as well as COO of the Goodnews River Lodge, Jeff wears many hats. He has guided from Louisiana to Belize, and the Keys to Alaska, and is one of the finest guides you'll ever fish with. In the off season he spends his time in Louisiana sight fishing to some of the largest Redfish available. Jeff is our resident expert on Rainbows and Dollys on the South Fork of the Goodnews, and manages that stretch solely. You could sum up Jeff's favorite fishing method in 3 simple words. Mice. Mice. Mice. This will be his 15th consecutive season guiding for GNRL.
Eric Leininger
Eric's called Oregon his home for the last 15 years, and guides for Northwest Fly Fishing Outfitters out of Portland when he's not in Alaska. This has him targeting anadromous fish year round. Eric is a G.Loomis Elite Ambassador, our Spey Guru, Social Media Manager, and a Steelhead fanatic. This will be his 9th season on the Goodnews.
Ross Swanson
Ross is our go-to man when it comes to the Middle Fork branch. From chucking streamers to Indy fishing with flesh & beads, he's got it all. Running up to the Braids, or staying close to Tidewater, Ross is always giving clients his best effort. There's no wonder why he stays busy in the off season running Tailwater Charters back home in Michigan. With a recent degree in Communications from Ferris University, he's bringing back all his knowledge to GNRL for his 6th season.
Kyle Sawyer
Kyle has been putting on quite the Grayling clinic lately, taping multiple fish over 20 inches the last few seasons. Last year he stepped up his game and boated multiple Kings in the 30-40lb range as well. So wether he's hiking guests into the Sacred Pools, getting them their limits of waterfowl during our Cast & Blast week, or hooking into giant Kings, Kyle has been a great addition to the GNRL family. This will be his 6th season on the Goodnews.
Steven Cratty
Cratty, as he's known around camp is not your typical guide. He doesn't sport a hat, his shades aren't Smith or Costas, and he's not draped head to toe in Simms. Point is, this guy walks to the beat of his own drum. A Jack of all trades around camp and one of the hardest working people I know, Cratty is a essential piece to this puzzle. Now living in Louisiana, he spends his off season guiding for Redfish in the Biloxi Marsh. This will be his 7th season at GNRL.
John Napolitano
Johnny is another GNRL success story. With seasons of consistent hard work and a willingness to learn under his belt, he climbed the ranks through Support Staff to secure a full time Guide position. With repeat requests to fish with him from clients every season, and earning our 'Top Guide" spot from last year, Johnny has been killing it. This will be his 4th Season.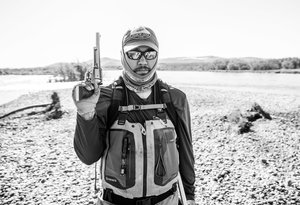 Jan Stewart
If experience counts for anything, then Jan is worth his weight in gold. Growing up in Goodnews and running the river from an early age has made him incredibly knowledgable, as well as a steward for the watershed. Spending his previous years as the official River Ranger of Goodnews, he's spent extensive time running the river from the mouth to the upper reaches, all the while fishing in between. Every guide has their hot spots, it's just that Jan has a few more.
Alex Kumiski
Alex is back on the Goodnews and back in the Guide rotation. Experienced on the Goodnews for 3 prior seasons, and spending the last few in SE Alaska, Alex has a good handle on Alaska fisheries. Wether its fly or conventional, he's got you covered.